For all official information and updates regarding Covid-19 visit the South African Department of Health website at
www.SAcoronavirus.co.za
or their WhatsApp line on 0600-123456. If you want your own WhatsApp Chatbot visit
www.whatskonnekt.com
The RAEL Orange Friday Wave is about creating awareness around
addiction and to remove the stigma. #RAELOrangeFriday
Since this country is hopelessly ill-equipped to deal with the
numbers of addicts in treatment centres, our greatest hope lies
in the EDUCATION of the people to prevent them from beginning
this journey, and saving those that have already taken steps
along the addiction path. This is where RAEL Orange Friday
Wave was created to educate people & create awareness around
addiction and to remove the stigma.

The ORANGE FRIDAY WAVE needs to be shared in schools, colleges,
universities, communities, corporates, events, churches, government
& institutions, in fact ANYWHERE since addiction has NO boundaries!
The RAEL Orange Friday Wave is about creating awareness around
addiction and to remove the stigma. The RAEL organisation founded
by Anthony Hall after he lost his nephew to drug abuse.
Anthony is an activist in making people aware of the ills of substance
abuse and assists many addicts and families caught in addiction.
Anthony runs a rehab on a farm in Rawsonville, Worcester
Western Cape, South Africa. This is a rehab like no other.
He nurtures these men as if they were his own sons.
RAEL's "no nonsense" & hardcore approach, has seen many people
get their lives back after being destroyed by addiction.
Addiction DOES NOT discriminate! If you would like us to speak
@ your school, club, church, organization, want to arrange meetings/
interventions or want us to visit your town please contact us!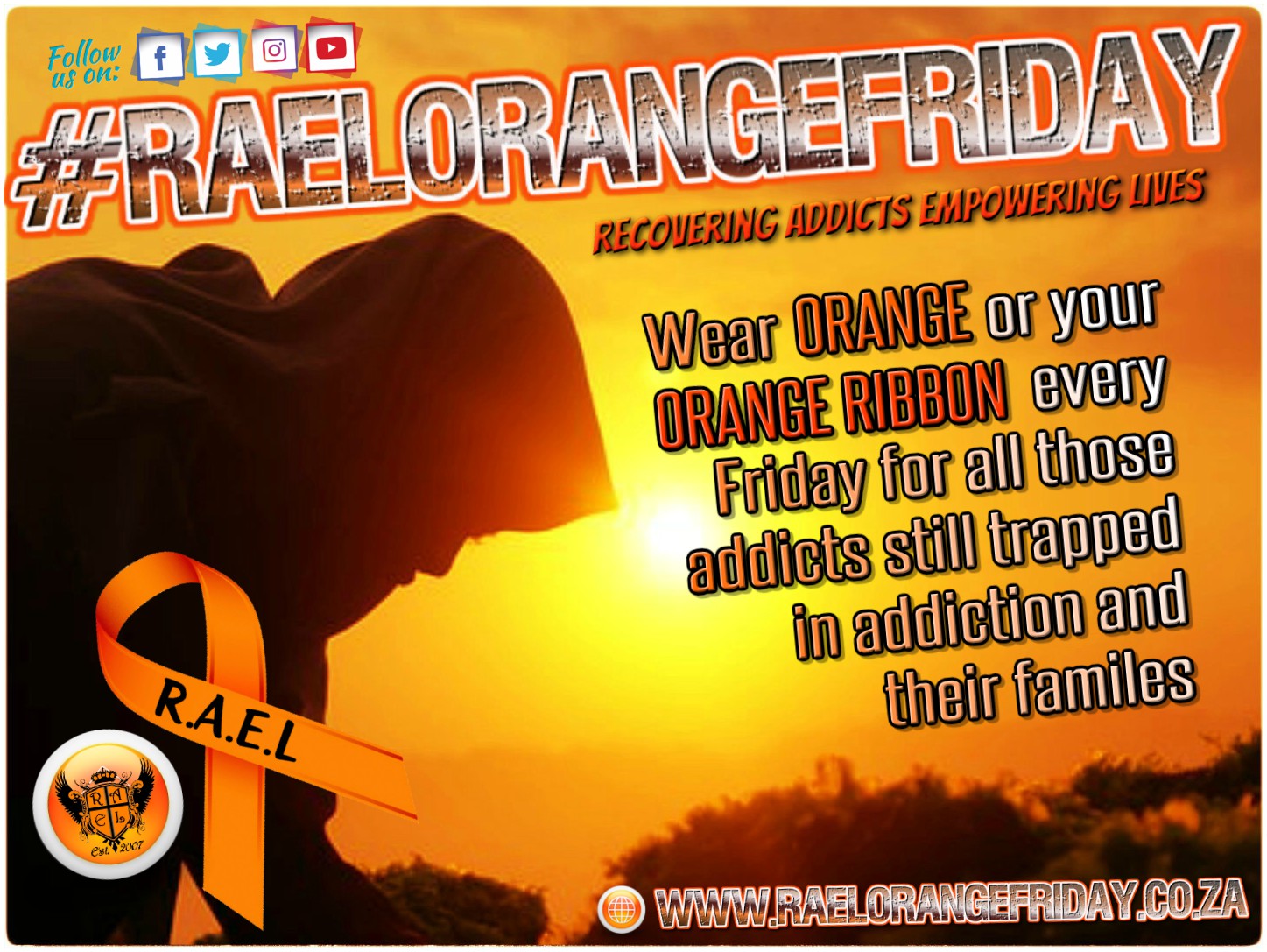 Contact Us